It is, apparently, July. Looking out my window it could be anything from November to March without too much convincing. Nevertheless, being July, means that I increase age yet another year. I'm now a few days into being 22 and I dislike it. I feel old.
On the other hand, this time next year (hopefully) I will have qualified and am sure to be even more terrified about being 23 and about to start looking after people. Ill people. Oh dear!
I'm also approaching the rough half mark in my summer "holiday". In truth I barely feel like I've had many days of holiday, going from a final morning of surgery to Edinburgh airport in the evening. This was followed by a good deal of travelling then a jet lagged car trip in the baking Florida heat. Florida theme parks followed which, while enjoyable, are not quite that relaxing! Take this for example: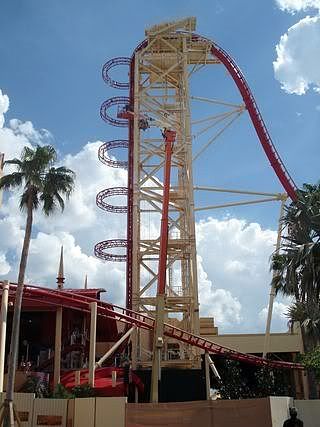 The picture doesn't do it justice. It does film you throughout the ride, which was great to watch, but ridiculously expensive to buy. Getting about Harry Potter land also requires a great deal of patience and a hat to wipe the sweat away.
While I was only there for a week, it was great to get out of the country. My poor flatmate has tagged his elective on to the end of 4th year and effectively hasn't had a break yet. Since January.
Back to my non-holiday, I returned Sunday lunch time, barely awake, to return to Glasgow the following day. So began the podcasting! This has involved my writing, acting in and editing clinical procedures. Indeed, I started acting the morning I returned from working T in the Park. With only a week with the film crew, we had lots to get through. It carried me through to my birthday weekend rather quickly.
And so here I am and after next week I return to medicine as I begin my elective in Yorkhill. I wish I could've gone away, especially since summer seems to be over here. I still have over a year to go though and the money to support me is a never ending hunt. It's best I stayed, I'll just have to make the most out of it.
And nod and smile when people recall their elective holiday come September. Sigh.